Carolyn Chin-Parry
Winner of Woman of the Year 2019 and Business Role Model of the Year 2020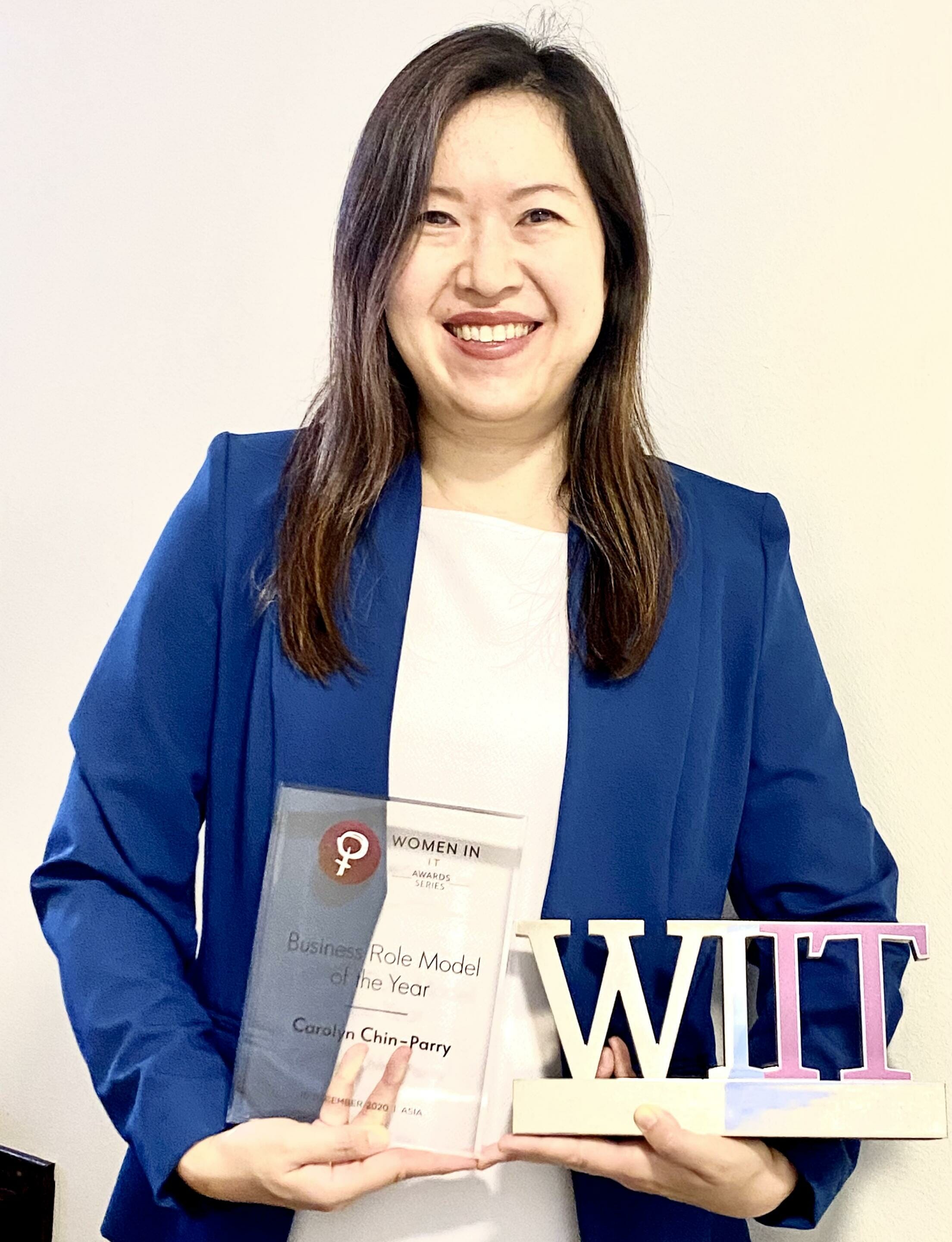 "We should recognise great work being done and celebrate these achievements to inspire others to greater heights."
Tell us about your winning moments at the Women in IT Awards Asia…
I've been extremely lucky to have two winning moments at the awards. My first was winning the Woman of the Year award in 2019 on stage presented by Minister Josephine Teo. I bumped into the Minister earlier that evening and asked if she would be presenting an award and her response was that she was going to be presenting the Woman of the Year award. I then shared that I was nominated for that award and wouldn't it be a lovely coincidence if we were both on stage together later in the evening – and guess what happened! I was in joyful tears and couldn't believe that I was the winner given the other highly talented nominees. The second winning moment was in 2020 where I won the Business Role Model of the Year. This too was a very huge surprise! Given the Covid-19 situation, I was presented with the award online and in some ways, this was more heartfelt because I managed to share the special moment with my husband and kids – and unlike the first award which was more around individual accomplishments, this one was dedicated to inspiring others.
What have you been doing since receiving this award?
I have been inspired to continue to drive to greater diversity & inclusion in the IT sector. This includes leading PwC Singapore's Pledge to the SG Women in Tech initiative where we will be providing Executive Coaching for IT women in our firm, broadening our Lean In Circles and conducting roadshows to attract more school girls into IT & STEM. Additionally, I have been driving more awareness on the Digital Divide and how one-third of South East Asia, specifically 150m people, are not able to participate in the Digital Economy. This is where I help to share better understanding about the factors contributing to digital exclusion, how we can all play a part to address this urgent need and why it's important to the economy in this region.
Why do you think it is important for female professionals to nominate themselves, their colleagues, managers and peers?
I think quite often women are very modest about their achievements and this then gets underplayed or overshadowed by others in the workplace. We should recognise great work being done and celebrate these achievements to inspire others to greater heights.
It's been a year of uncertainty, so why should professionals be sharing their work, challenges and successes?
Covid-19 has placed tremendous stress on many families and especially women who often have to take on a higher workload on the domestic front. Domestic violence has been on the rise and women are losing jobs 1.8 times faster than men. Given these challenges, we should definitely be recognising outstanding women in their field (such as through an award nomination) and celebrating their success, especially in such challenging times.
Nominations are open for the 2021 Women in IT Awards Asia. For more information and to submit a nomination, please click here.